Request Donations

DONATION: FILLED OUT FORMS CAN BE EMAILED TO BRANDY PERKINS, CHAIR – [email protected]
Financial Donation Request – Interactive PDF
Financial Donation Request – printable form
The Maine Lobster Festival is truly a community festival. We would not, and could not, exist without our commitment to giving back to the people of Midcoast Maine.
In the mid-1990s, then-Maine Lobster Festival President Ed Kolmosky gathered the set-up crew and quickly realized that the pavement at Rockland Harbor Park was in rough condition. Some tent stakes would not hold in the crumbling hard-top.
Komolsky called Rockland's city manager and learned there was no money in the budget for repairs. His typical "can-do" response resulted in getting a local paving crew to the Festival grounds in a less-than-typical time frame. The Maine Lobster Festival took care of the paving for the city property at no cost to taxpayers.
A few years earlier, the city needed a new ambulance but had no money to pay for it. Thanks to a donation from the Maine Lobster Festival, the City of Rockland bought a new ambulance. When a local developer set his sights on the land at the top of the hill above Rockland Harbor Park, long-time Maine Lobster Festival stalwart and retired teacher, Mildred Merrill, realized the last harbor view on Main Street was threatened. It took several years, but under Mildred's steadfast leadership, the Maine Lobster Festival bought the land and donated it to the city with the understanding that the view would not be blocked.
These are three examples of the Maine Lobster Festival's core mission – Giving back. Our strength is the more than 1,100 volunteers who help us each year.
"This combination is what makes the Maine Lobster Festival unique, and it's what keeps us going all winter," said Tim Carroll, Maine Lobster Festival past president.
Other community contributions and gifts worthy of note have gone to Oceanside High School for a new auditorium curtain, improvements to and furnishings for the teachers' lounge, and additional educational support.
The festival also has supported other projects, including (but not limited to) the Penobscot Bay Regional Chamber of Commerce, Camden First Aid Association, Freedom Riders, Meals on Wheels, Area Interfaith Outreach Food Pantry, Rockland Fire Department, Bicycle Coalition of Maine, Big Brothers Big Sisters of Mid-Maine, Knox Interfaith Teen Safe Havens, Pope Memorial Humane Society of Knox County, Destination Imagination, Rockland District Nursing Association, Literacy Volunteers, and Rockland's Festival of Lights Celebration. Our largest gift to date has been a donation to the Thomaston Fire Department for the purchase of a new utility truck. A portion of the gate admissions are distributed annually for worthwhile recreation projects throughout Knox County.
Thank you for supporting the Maine Lobster Festival, as it supports the Midcoast community.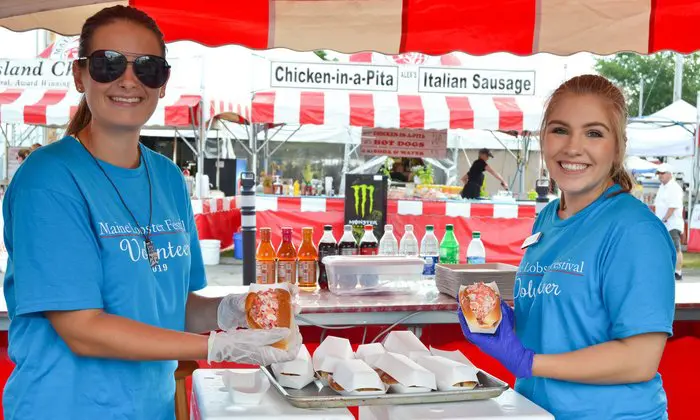 From our Board of Directors to the folks serving you delicious lobster dinners throughout Festival Week, volunteers give their time and energy to make the Maine Lobster Festival run smoothly. For eleven months, our Board of Directors is busy planning for the upcoming festival. For three weeks prior to the festival, volunteers work diligently to get the grounds set up in order to meet all of our visitors' expectations upon arrival.
All proceeds raised from the festival are given directly back to the Rockland area communities in the forms of donations, grants, scholarships, and gifts.
This is where you come in.
We are looking for volunteers to sign up for the 75th annual Maine Lobster Festival and we have a job for everyone! Whether it's helping to set up or taking down tents, cooking the thousands of lobsters we will serve this year, or taking tickets at one of the gates, we need your help. In return, you will receive one of our coveted Volunteer T-shirts and our eternal thanks for your hard work. Volunteers also receive 50% off any food items in our food tent.
Every year, more than 1,300 volunteers make this festival run – there wouldn't be a festival without them! Our volunteers come from all over the country. Local residents, summer residents, and vacationers of all ages volunteer for at least one 4-hour shift on the grounds. People plan their vacations around their obligation at the Festival.
Each volunteer receives an exclusive Maine Lobster Festival Volunteer T-Shirt – these shirts are not for sale and can only be obtained by volunteering! In addition volunteers receive free admission every day wearing your special one-of-a-kind Maine Lobster Festival volunteer t-shirt.
For any further questions about volunteering or using Signup.com, please email [email protected], or call (800) 576-7512.
VOLUNTEER DESCRIPTIONS:
Children's Tent: The Children's Tent is a large tent used for quiet play. While there are lots to do under the tent, we do ask that this be a calm area. Chairs and tables are provided for art projects, or face painting staffed by local high schoolers or local day campers. Large motor play is a very big part so children can exercise their legs if stroller sitting has become to confining. We encourage families who are interested in volunteering together to select a 4-hr shift in this area. We only require 1. that toys stay under the tent and 2. things are returned to their proper bins for the next child to play with. We encourage volunteers in this area to play with their children and use the activity to show off our lovely, cool and very popular Children's tent!
PARENTS ARE REQUIRED TO STAY WITH AND SUPERVISE THEIR CHILDREN WHILE IN THE TENT.
Food Tent: Volunteers for the Food Tent help with the serving of lobster; cooking and serving of other Maine seafood; prepping and serving sides and desserts; cashiering; cleaning tables and trash removal. You can be tasked with an easy job, like placing melted butter cups on platters or grabbing cold drinks for our visitors or ask for a more difficult job of cooking. You can be part of the team at the Lobster Cooker, steaming those fresh 'bugs' as the lobster community call them to steaming the mussels and clams. If your family is gung-ho to cook depending on your skills we have places for you. It may be assembling the strawberry shortcut desserts, or running the freshly steamed lobsters from the cooker to the food tent. It takes about 3 people to ferry the load from the cooker through the festival crowd using a yard cart to transport the tote full of fresh red cooked lobsters. We always need hands to help wipe down tables after usage and empty trash from the barrels to the dumpster if you are so willing. We can not have family members volunteer under the age of 15, exceptions are made individually by the Food Directors. They will determine the safety of the job with the person.
Food Tent/Cleaning Tables Volunteers: Teams, groups, organizations, or graduating classes are encouraged to signup at least 10 people to clean tables in the food tent and empty trash recepticles for one 4 hour shift and receive a donation from a grateful Festival to their group for $200. We would encourage our students at area high schools to use this as a way to earn cash for their Project Graduation project, team sport fund raising or any reason the organization has for fund raising. These spots can be obtained by filling out the volunteer form above, selecting Food Tent Crew and listing everyone's names and t-shirt sizes in the comment section. The contact person for the group should fill out the form.
Gates/Tickets: Volunteers in this area are the first faces that greet Festival visitors. We only get one chance for a first impression and volunters here can make or break our guests experience. Smiling faces and information at hand assists any questions that might be asked. We love having families volunteer together at our 'ports of entry'! Responsible adults will be considered for ticket sales and family members over the age of 15 can attach wrist bands or answer questions, help take photos, or recommend where the bathrooms are on the grounds. You would be part of a team of 8/10 people with a Gate Leader for support and fun. It requires 4 hr standing or walking around, wear comfortable shoes, a hat and sun screen!
Marine Tent: Volunteers are needed in the Marine Tent to supervise the Touch Tank, a willingness to handle the marine life (starfish, sea urchins, etc.) in the tank is a plus as our visitors like to be able to see them up close! Families can sign up for this location for up to 5 people. You can talk to visitors about the creatures provided in the tank and either show them how to pick them up or just point out what they are. Its a great place to be inside the Marine tent, next to seawall at Buoy Park. What a great view! The age restriction for this attraction is again 15 or older, but exceptions can be made.
Pancake Breakfast Crew: Volunteers in this area arrive early and cook. The "All You Can Eat Pancake" breakfast starts at 7AM – 10AM, so volunteers for this need to arrive at 6AM to make coffee, setup tables and cook blueberry pancakes. This very popular event goes from Thursday to Sunday. If your family is interested and are early risers, consider this event. Family members will need to be 15 or older, but there are multiple tasks for them to perform during this 4 hr shift in the food tent. And afterwards you'll have all day to investigate the grounds, listen to performers on stage, eat in the food tent and watch artisans work. This area does fill up quickly, so sign up early to reserve your spot(s).
Souvenir Area: Volunteers in our souvenir tent assist with keeping Festival merchandise; tee shirts, posters, hats, etc. organized or refilled with product. Folding shirts, hanging sweatshirts back up, assisting visitors with colors or sizes of items, and replenishing souvenirs from Jimmy's store in the garage. Families selecting this area for their volunteering can all be together in the tent 'hawking' our goods! It is a never-ending task to keep it organized and well stocked. You know you can be of great service in this tent. It is also where visitors go for Lost/Found items and for general information.
Lobster Cooker: Volunteers in this area are mostly from our local Coast Guard Station and boats assigned to Rockland. As a designated Coast Guard city since June 16, 2008, 11 years, the Coasties from Station Rockland, Thunder Bay, Abbie Burgess, and the Tackle work hard cooking and moving the thousands of pounds of lobster served each day to the food tent. It is hot, sweaty and physically heavy lifting work so families of young children are not encouraged to work here, but if you are a family with children over the age of 18, you may try it. The ability to do heavy lifting is a must, given the nature of this area we cannot take volunteers under the age of 18 at the cooker.
PLEASE NOTE: Some of the Volunteer areas require lifting and you will be on your feet for the majority of your volunteer shift. Please dress accordingly.