Sign up for the Crate Race

The "International Great Crate Race" is open to anyone brave enough to risk falling into the chilly ocean with thousands of people watching your every move!
Sign up for the Crate Race occurs the day of the race, Sunday, August 6, 2023 at the Souvenir Tent (formerly the Information Booth) starting at 7:00 am. But come early as the spots fill up quickly and space is limited! The race starts at 2pm!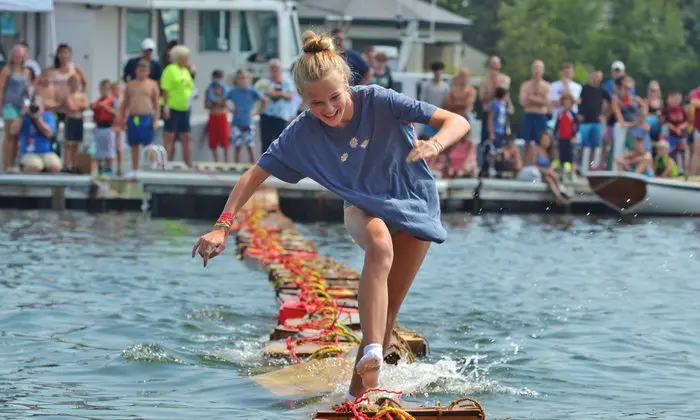 The Maine Lobster Festival's International Great Crate Race is the original crate race, invented by William Atwood in the 1970s and managed by him and his family for more than 20 years. Taking the challenge of scampering across a string of floating wood lobster crates is, without a doubt, among the biggest splashes at the annual Maine Lobster Festival. This test of balance and endurance — and sometimes a bit of theatrics — is a major attraction that regularly draws hundreds of spectators.
Lobster crate racing requires speed, quick feet, balance and, above all else, the ability to withstand a dunking in chilly Maine waters because most competitors do end up in the drink.
The race course is a string of 50 lobster storage crates stretching across a section of Rockland's inner harbor in full view of the festival grounds. While trying to reach the other end, contestants scamper across the barely floating lobster crates. If successful, a contestant turns and heads back to the other end. The "race" for each runner continues until a fall into the water occurs or until exhaustion takes over.