The Marine Experience Tent

The Marine Experience Tent is a Festival attraction that provides hands-on chances to touch and learn about a wide variety of Marine life. Maritime activities and demonstrations will continue during the festival. Who knows what creatures from the deep will show up? Exhibitors set up interesting displays for all ages.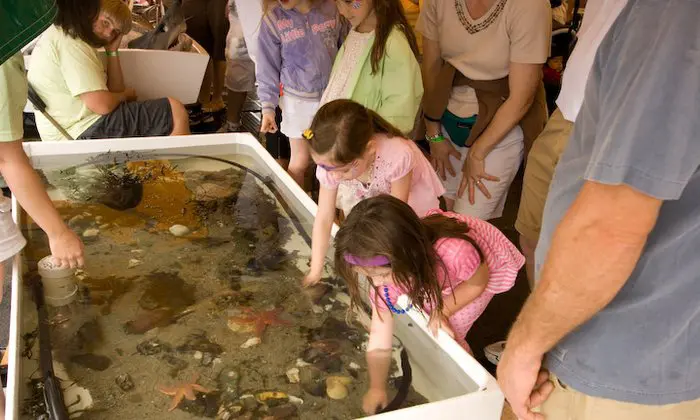 The Gulf of Maine is a complex and sometimes mysterious place. Who knows what creatures from the deep will show up in the Marine Experience Tent? Each year, Marine tent exhibitors, from lobster trap builders to fishermen, explain and demonstrate how they fit into a very big picture. The touch tank allows visitors of all ages to get up close and personal with some of Maine's smaller sea life. Learn how lobster traps are made by watching a demonstration by Brooks Trap Mill of Thomaston, Maine. Learn about boat building and sailing on the open ocean from The Apprenticeshop of Rockland, Maine. These are just a few of the exhibitors you'll meet in the Marine Experience Tent.
The Marine Experience Tent frequently hosts book signings by Maine authors and illustrators. In 2014, we welcomed Kevin Mills, author of Sons and Daughters of the Ocean, Sidelined, and Breakwater. The same year, Darcy Scott who authored Hunter Huntress and award-winning Maine Island Mysteries: Matinicus was also available for book signings in the Marine Experience Tent. Maine Island Mysteries: Matinicus won "Best Mystery" in 2013 at the Indie Book Awards, the Silver Prize at Readers' Favorite Book Awards, and the Bronze Prize in 2013 at the IPPY Awards.
2023 Exhibits
Piece by Piece by Piece Sea Glass Art by Anne Dow, Westbrook, ME – Anne's art is created from sea glass that is found piece by piece by piece along the shores of Maine. Her work features a variety of themes~from lobsters and lighthouses to pet pieces and nature. It has always been Anne's favorite pastime to collect sea glass, shells, and rocks in the mid-coast area with her daughter, sister, and niece. Besides the quality time with family, there is a therapeutic value in it. Stop by the Marine Tent and take home a piece of Maine!
STATION MAINE of Rockland is an organization of community members dedicated to offering boating opportunities at no cost to youth of all ages in the Midcoast area. Members will give rowing demonstrations and will recruit prospective rowers.
BROOKS TRAP MILL of Thomaston will once again display the complete start-to-finish process of building a lobster trap—and the materials that go into its building.
Lauren Elizabeth Smith – Providing an assortment of T-shirts for the whole family. Tees are designed to be colorful, happy, and to make people laugh, but most of all to represent Maine. The lobster industry is a big part of her family. Lauren's partner grew up and fished out of Rockland and his family is currently fishing out of this area. Her family is also a part of the Dark Rose Pirates which will be located right outside the Marine tent. Lauren's sister will also be joining them this year with her paintings of different Maine scenes.
MAINE AUTHORS PUBLISHING – The trusted source for books by Maine authors since 2009! As a cooperative-style publisher, Maine Authors Publishing's goal is to support local, independent authors throughout the publishing process with affordable services such as editing, design, printing, a trade catalog, distribution, and marketing assistance. Writers wanting to explore publishing are invited to register for a free Zoom class on the first Friday of every month called "Introduction to Cooperative-Style Publishing."
You can find Maine Authors Publishing all week long in the Marine Tent, where they will have signings as well as a selection of books by Maine authors. Visiting best-selling Maine authors will include Diane Madden (The Story of Neeps and Tattie), Kirsten Reed (Ghost Town), Michelle Shores (The Gathering Room), Claire Ackroyd (Murder in the Maple Woods), and Rae Chalmers (Bear and the Oxbow Island Gang; Oxbow Island Gang: Lobster Graveyard; Oxbow Island Gang: Winter Crows; Oxbow Island Gang: Leap Frog).
PAINT IT SHORESELF CERAMICS – Lots of nautical- and lobster-themed ceramics will be available for purchase at the Festival. Kids will have the opportunity to do some on-site painting too. Cynthia and Ralph Dean are the owners of the shop located in Warren, Maine. They offer paint nights, birthday parties, ladies nights out, ceramic classes, kids summer camp, company Christmas parties and event parties. It is loads of fun for all ages. Come on down and get your paint on!
PENOBSCOT BAY WATCH Keeping an eye out for threats to Maine's biggest bay. Projects: wastewater outfalls oversight, legacy industrial waste site identification and cleanups aquaculture oversight, fending off marina sprawl and commercial sprawl. They will be set up in the marine tent to educate the public about their service and projects.
Ali Farrell – A local Maine author, brings the lobster industry to life in her two latest books. A Lobstergirl Can is a charming children's book about a girl who grows up fishing with her father. Within the pages, you'll see many well-known sights along our beloved coast of Maine. Along the way, she learns of her many strengths, such as positivity, endurance, kindness, independence, and more. The non-fiction book, Pretty Rugged, sheds light on the many women working in Maine's lobster industry. Readers can expect to see authentic stories of dangerous situations faced out on the water, the realities of the fishing lifestyle, and family history on generations of local Maine fishermen. The book is beaming with gorgeous photography from various local Maine photographers.
LJ's Lobster & Beach Themed Jewelry, Owl's Head, Maine – Creating jewelry has become a passion of mine. Growing up, I watched my grandfather turn local beach rocks into beautiful jewelry. After his passing, I realized how much I also enjoy creating jewelry. Being a young teenager who isn't old enough to seek employment yet, I have found myself passing time creating jewelry. I've decided to take a chance and share my creations with others at the festival. Please stop by my table in the Marine Tent to check out my work!
For exhibitor information, email [email protected].