Art & Craft Tent

The 76th Maine Lobster Festival Art & Craft Tent is located under the protection of a large beautiful tent located at Bouy Park on the Maine Lobster Festival grounds. Our exhibitors come mostly from Maine which hosts a vast array of talented artists and artisians. We welcome applications from across New England and beyond.
Stop by the tent and catch a demonstration or two from our exhibitors.
We have a potter throwing & sculpting a special work created during the Maine Lobster Festival, illustrative drawings and paintings by a local artist, jewelers working their craft with metals and Maine Tourmaline, jeweler artists working in their medium of choice, Maine wild honey and bees wax products, gourmet jams and salsa, photographs of Maine scenes from the mountains to the sea , photography of birds and animals, fabric artists and designer products from bags to masks, detailed hand painted prints from an artist working in pen & ink , lotions and scents from plants grown here in the state of Maine, hand carved walking sticks, pictures utilizing small beach rocks for medium, Alpaca products and yarn, silk screened prints on wood and on cloth, hand painted signs, sculptress's shaping and forming polymer clay jewelry and ornaments and a designer of wooden painted tide clocks.
Application deadline extended to April 1, 2023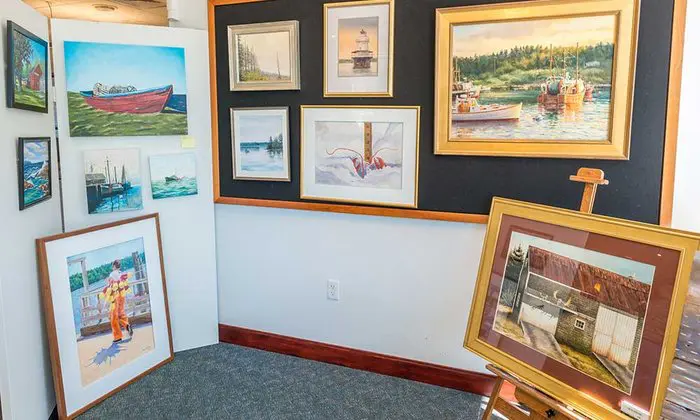 Art Show

Artists from the Midcoast area and around the state are invited to join the Maine Lobster Festival in celebrating its 76th year by entering art work in the Maine Lobster Festival Art Show. The Art Show will be hung for public viewing in the North Tent on festival grounds. The festival grounds are open to the public from 9:00AM-9:00PM.
The show is open to professional artists, adult amateurs, and high school, middle school, and elementary students. Art show registration will be held on Sunday, July 3oth and Monday July 31st, 2023 FROM 10AM TO 3PM at the Maine Lobster Festival Volunteer office which is located at 1 Park Street, Rockland. Please enter through the main door which is shared with our neighbors, the Park Street Grill, to register your art piece(s) which is limited to two pieces per entering artist.
The following medium categories for two- dimensional art works are: watercolor/acrylic or water mediums, oil, mixed media and drawing materials.
There will be two special art awards given at the 2023 art show. The themes to be considered for these two awards are: (1) The 'Eddie Harriman Award' which is given to the artwork that features the Maine Lobster Festival Theme: 'Lobsters'. The award was created in memory of the artist who painted lobsters for years on the windows in downtown Rockland to help promote the lobster festival. (2) The 'Betty Kinney Award' is given to a painting inspired from a 'Coastal Scene'. The award is given in memory of the woman who established and directed the Maine Lobster Festival Art Show for 25 years.
Artists may drop off (1) or (2) pieces of their artwork at the Maine Lobster Festival Office located at 1 Park Drive, go through the outside door of the Park Street Grille and enter the first door on your left.