Art & Craft Tent

The 76th Maine Lobster Festival Art & Craft Tent is located under the protection of a large beautiful tent located at Bouy Park on the Maine Lobster Festival grounds. Our exhibitors come mostly from Maine which hosts a vast array of talented artists and artisians. We welcome applications from across New England and beyond.
Stop by the tent and catch a demonstration or two from our exhibitors.
We have a potter throwing & sculpting a special work created during the Maine Lobster Festival, illustrative drawings and paintings by a local artist, jewelers working their craft with metals and Maine Tourmaline, jeweler artists working in their medium of choice, Maine wild honey and bees wax products, gourmet jams and salsa, photographs of Maine scenes from the mountains to the sea , photography of birds and animals, fabric artists and designer products from bags to masks, detailed hand painted prints from an artist working in pen & ink , lotions and scents from plants grown here in the state of Maine, hand carved walking sticks, pictures utilizing small beach rocks for medium, Alpaca products and yarn, silk screened prints on wood and on cloth, hand painted signs, sculptress's shaping and forming polymer clay jewelry and ornaments and a designer of wooden painted tide clocks.
Application deadline extended to April 1, 2023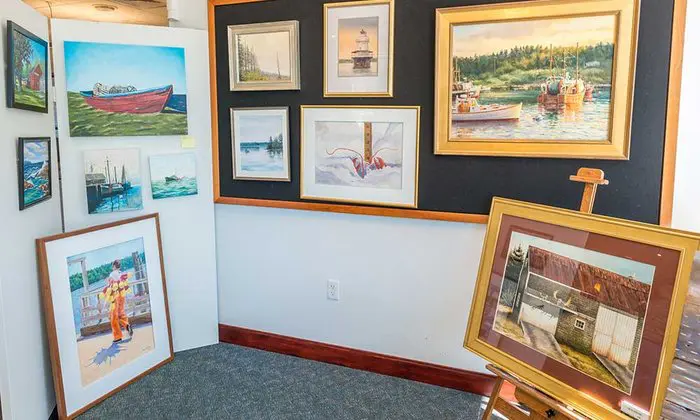 2023 Fine Arts & Craft Tent Exhibitors
The Fine Arts Tent and the Maine Craft Tent join forces in one large, beautiful tent at the north end of the festival grounds. Here you will see beautiful works of art in one area and enjoy talking with local artists and craftspeople. There are ongoing demonstrations throughout the day. It is one of the must-sees at the Maine Lobster Festival. Many talented artists and craftspeople are working and selling their wares.
Maine author, Emily Coye – Everyone deserves a thumbs up! This hardcover book, based on a Maine lobster, will bring children on a journey through the eyes of a creature unlike the rest. This lobster will always be giving a thumbs up, therefore sharing his positive outlook on life everywhere he goes. Throughout this story he learns to embrace difference by finding his inner courage, while teaching others to do the same. THUMBS UP FOR ALL! Written by local Maine author, Emily Coye.
Susan Morrill and Richard Alfred Johnson from Camden Pottery and Johnson Gallery located in Rockland, Maine, exhibit their works in the Fine Arts and Craft Tent. Richard and Susan, both retired Oceanside High School art teachers, have been involved with the Maine Lobster Festival for over 46 years. Richard demonstrates his clay sculpture and pottery wheel thrown work in the Art and Craft Tent located in Bouy Park on Festival grounds. During the 76th Maine Lobster Festival, Richard will sculpt a large clay mermaid sculpture and demonstrate on the pottery wheel. The large grouping of sculpted mermaids, all sculpted at past festivals, are located at their studio on Lake Ave. in Rockland. Su exhibits her watercolor and oil paintings which are inspired by the Maine coast and Maine islands where she grew up in Rockland, Spruce Head and Monhegan Island.
Margaret Morrill – Paisley Made nautical designs. The nautical-themed creations range from handmade wooden signs and crates, beautiful magnets, and lobster glassware. Founder Margaret Morrill Paisley grew up in Rockland/Spruce Head, Maine. She now lives and teaches in Portland, Maine. One of her biggest passions is nautical creations. All of her items are inspired by her picturesque childhood in Spruce Head.
Grey Goose Gourmet – Sandra Dwight-Henry is the pepper jelly creator, cook and owner of Grey Goose Gourmet; where the kitchen is the heart of the business. When not making pepper jellies, you can find her either in their 1850's barn shop, the garden, a farmer's market, or at a festival sharing the pepper jelly love.
Karen Talbot is a Rockland-based scientific illustrator and artist best known for her work with fish. Her work has won numerous awards and can be found hanging in natural history museums, art galleries and client's homes. The tagline of her business is "Conservation through Appreciation," and she gives back to organizations that support the species she illustrates and the ecosystems in which they live. She has worked with Trout Unlimited, the Natural Resources Council of Maine, The Nature Conservancy, Maine Sea Grant, and numerous other organizations focused on the restoration of Maine's aquatic ecosystems and especially its sea-run fish like the Atlantic salmon. In 2015, she created the Angler's Pint, a 21.5-ounce pint glass that is perfect for tall tales after a day on the water!
James and Doris Cushman of Caribou, Maine, own and operate Gemsations. For almost 20 years they have collected rocks, minerals and fossils to delight their customers and create unique handmade jewelry that mirrors the stones they love. Once school is done for the summer, they load their trailer and head out to sell at various festivals and craft shows around the state of Maine. Their goal is to please their customers, and they welcome requests for new products or a twist on a handmade jewelry item. James can create or repair jewelry items as you continue to shop with other vendors and he and Doris are both willing to answer questions about gemstone products they sell.
Janet Morrill Washburn born and raised in Maine, is a true Maine artist. Knowing the state as she does, she has the capability of painting "en plein aire" year round in places off the beaten path. Her work reflects the local environment of Maine consisting of coastal, inland and island-scapes. Janet grew up and lives inland in the western mountains. At her parent's lakefront camp as a young adult, she learned to paint from Martha's Vineyard artist F.M. Austin. Much of Janet's inspiration came from her time at her brother Bob Morrill's camp in Spruce Head. She now spends her free time doing what she loves most, traveling and painting. Whether it is oil, acrylic or watercolor, she is most often found with a brush in her hand.
Lynn & Willis Lamb of Maine Honey Bee have been keeping bees for 15 years. Centrally located in Western Maine, they have three apiaries. In New Sharon on their family organic tree farm the honeybees forage on isolated forests, fields and flowers. Here the bees pollinate the Lamb's orchards, berry patches and gardens. In West Farmington, the bees forage gardens and the alluvial region. Sweet Pea Apiary on Mt. Desert Island is where the bees thrive and pollinate an organic farm's fruits, vegetables and flowers along Northeast Creek in Acadia National Park.
Peter Johannes Photography & Jordan Kruijff – Peter Johannes and his sons have been capturing award winning photos of Maine, New England and Maritime Canada for decades. Their photographs display a classic sense of composition and design, while retaining a feeling of immediacy coupled with a masterful use of photographic skill to create images for book covers, magazines, numerous galleries and museum exhibitions.
The Artists of the Maine Lights Collection have over 75 years of painting experience and 45 years of polymer clay sculpting between them. Sandy Clement is the creator of Mussel Men, which are carefully sculpted polymer faces on various sized shells. Linda Leach specializes in mixed media sculptures and jewelry. Working together for over 25 years as well as teaching a variety of arts through the local adult ed program, they are constantly challenging their imaginations in order to create new art. They have participated in the Maine Lobster Festival for 18 years as well as Craft Boston and Portland Fine Craft Fair.
Blueberry Moose Signs and Such – Closer to home we have Jo Ann Hoppe from South Thomaston, Maine. Her "Blueberry Moose Signs and Such" feature hand-painted signs painted to perfection. Jo Ann demonstrates her craft in the tent.
Lisa Holt of Brimstone Designs & Photography creates work inspired by nature and formed from materials that she gathers. Sea glass and beach stones are hand selected from local beaches. Stop by to view Lisa's mixed media wall art made from rocks, wood, and sea glass.
Kim Pauley grew up in Rockland and now resides in the Portland area where she creates bags of many styles and sizes. The colors and workmanship are exciting and a must-see product display in the tent. Kim demonstrates her craft daily. Stop by and see her artistic flair with color and pattern. Most bags are made with home dec weight cotton. The label says "just-kim," and we say "just-perfect."
Lori Davis of Ellsworth will exhibit her original color photography capturing nature, wildlife and landscapes from Maine. Photo Greeting cards, magnets, coasters, ,matted photographs, photography on slate canvas.
Maine Alpaca Experience – Since 2004 Robin & Corry have been living and breathing the alpaca dream, growing some of the finest quality alpaca fiber in the nation. They provide alpaca clothing that offers both function and fashion. Alpaca is sustainable! The insulating qualities of alpaca help to keep you cool in the warm temperatures and toasty warm when the cold weather arrives. As a hypoallergenic and moisture resistant fiber it is perfect in all conditions. From soft baby hats to durable socks for the slopes & outdoor adventures to silky scarves and shawls, alpaca suits everyone.
Jayne Dwyer is an internationally recognized polymer clay artist. She sculpts her Maine- themed designs in a process you have to see to believe. Jayne has been selling her well-loved designs under the name "Paper Moon Jewelry"' for over 20 years now. Stop by her booth to browse a vast body of work solely designed and produced by the artist. She will offer demonstrations upon request.
Heather Roselle Barter of Veazie joins the tent with her collection of paintings from around our beautiful state of Maine. Heather attended MECA's program at 17 and graduated from the University of Maine with a BA in art education in 2013. Both programs helped her refine her skills. Presently she travels across the state looking for landscapes and scenes to paint.
Lisa LaPierce-Lee is a native of Maine. What started as a young girl's hobby of collecting seaglass, pottery shards and other unique treasures along the beaches of Maine has turned into a love of creating one of kind pieces of art. Utilizing vintage, salvaged windows and all authentic hand-picked sea glass, Lisa derives her inspiration from the colors and shapes to capture the intrinsic beauty of each piece. When not working Lisa can be found on the beaches near her summer home in Sullivan, Maine.
Christa Zuber is the owner of 'The Place' in Rockland. The Place is an art business that started as a DIY art studio and art consignment shop. Christa offers art boxes (art class in a box), sea glass jewelry, handwoven tapestries, photography prints and notecards.
Woodside Hop House – Jenn Favreau Woodside Hop House is a family-owned farm located in Brunswick, ME offering fresh hops to local breweries in season. The off season is spent creating unique stained glass and laser cut, etched, wood and slate items.
Chez Geek Soap – Jennifer Houle, Rockland, Maine. Chez Geek Soaps features a vegan friendly soap base that is as sulfate, paraben and phthalate free as possible, while still featuring vibrant colors and fragrances that anyone in the family can enjoy, and plastic free packaging. Stop by the Art Tent and find out just how fun getting clean can be!
Old Moose Crafts – Donna Cline, Spruce Head, Maine. Old Moose Crafts are created with sewing and crochet. The items offered are pot holders, gift tags, bowl cozies, children's coloring bags, kid's tote bags, kitchen towels, crocheted stuffed animals and aprons for children and adults.
Diane Seiders of Hope, Maine, started Fantasy Designs Maine in 2008 as a lampwork artist. Presently, she makes utensils with handmade lamp work beads, magnetic scarflets, resin and polymer clay jewelry, coasters and resined wine glasses. Diane attends around 20 craft shows a year and her work is featured in three stores. She also sells wholesale.
Sea Doodles Tumbled Glass – Kelly Leland of Warren, Maine, works in the mediums of tumbled glass, sea glass and resin. Her creations are beautifully designed.
Wendy Waugaman is a Maine-based jewelry maker who crafts one-of-a-kind pieces for the discerning jewelry lover under the name WLW Designs. With a primary focus on mixing precious metals with hand-picked stones, Waugaman offers a fantastic collection of beautiful showpieces ranging from traditional to contemporary. Each piece reflects Waugaman's signature elegance, featuring delicate metalworking and prominently set semi-precious gemstones that are treated with care.
Art Show

Artists from the Midcoast area and around the state are invited to join the Maine Lobster Festival in celebrating its 76th year by entering art work in the Maine Lobster Festival Art Show. The Art Show will be hung for public viewing in the Fine Art Tent on festival grounds. The festival grounds are open to the public from 9:00AM-9:00PM.
The show is open to professional artists, adult amateurs, and high school, middle school, and elementary students. Art show registration will be held on Sunday, July 3oth and Monday July 31st, 2023 FROM 10AM TO 3PM at the Maine Lobster Festival Volunteer office which is located at 1 Park Street, Rockland. Please enter through the main door which is shared with our neighbors, the Park Street Grill, to register your art piece(s) which is limited to two pieces per entering artist.
The following medium categories for two- dimensional art works are: watercolor/acrylic or water mediums, oil, mixed media and drawing materials.
There will be two special art awards given at the 2023 art show. The themes to be considered for these two awards are: (1) The 'Eddie Harriman Award' which is given to the artwork that features the Maine Lobster Festival Theme: 'Lobsters'. The award was created in memory of the artist who painted lobsters for years on the windows in downtown Rockland to help promote the lobster festival. (2) The 'Betty Kinney Award' is given to a painting inspired from a 'Coastal Scene'. The award is given in memory of the woman who established and directed the Maine Lobster Festival Art Show for 25 years.
Artists may drop off (1) or (2) pieces of their artwork at the Maine Lobster Festival Office located at 1 Park Drive, go through the outside door of the Park Street Grille and enter the first door on your left.